There have been several Shore Larks at the mouth of the burn just south of the East Chevington NR for quite a few weeks now.  I saw them in 2016 - but it would be a good bird to add to my 2017 list.  So, on Sunday, Julia and I took a quick trip up the coast.  It was a lovely still sunny day with the temperature in the low teens - which is very good for winter in Northumberland!  The gorgeous weather had brought a lot of families and dog walkers to the beach - traffic was heavy.  It must have deterred the larks because they were nowhere to be seen.  But never mind, we were well entertained by Sanderling racing up and down the tide line.  We also called into Cresswell on the way home. It was quiet when we arrived but gradually birds settled on the pond.  The highlight was seeing 11 Whooper Swans land on the water.  There was a good variety of birdlife around the site - including Snipe, Curlew, Lapwing, Dunlin, Redshank, Shoveler, Teal, Wigeon and so on.  I actually counted 34 different species on our little trip.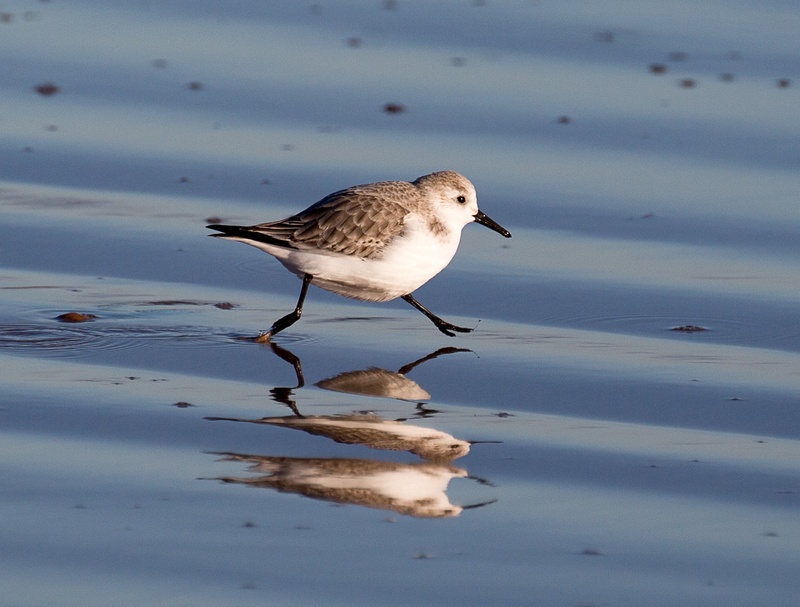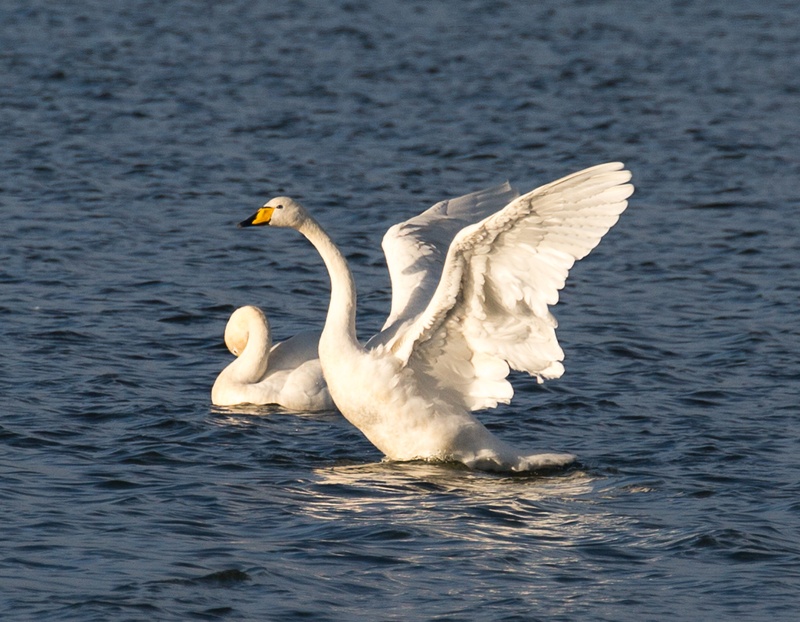 I'm not a great expert on geese (nor gulls either!). All I seem to see is Greylag and Canada Geese - though I could stretch to identifying Pinkfoot Geese when they land in their thousands. I was reliably informed that there were three European White-fronted Geese in the field next to Gosforth Park Nature Reserve. So - after a quick look in my Collins guide to remind myself what I was looking for - I planned to scan the appropriate field to see if I could pick out these different geese.
As I walked along the path a whole flock of geese took off and flew to the 'flashes' in the farmer's field - miles away! So, I went into the hide on the eternal Bittern hunt. After another fruitless half hour looking at the reed bed I returned to gaze into the field. Lo and behold, the flock was now just over the fence - and I spotted my quarry...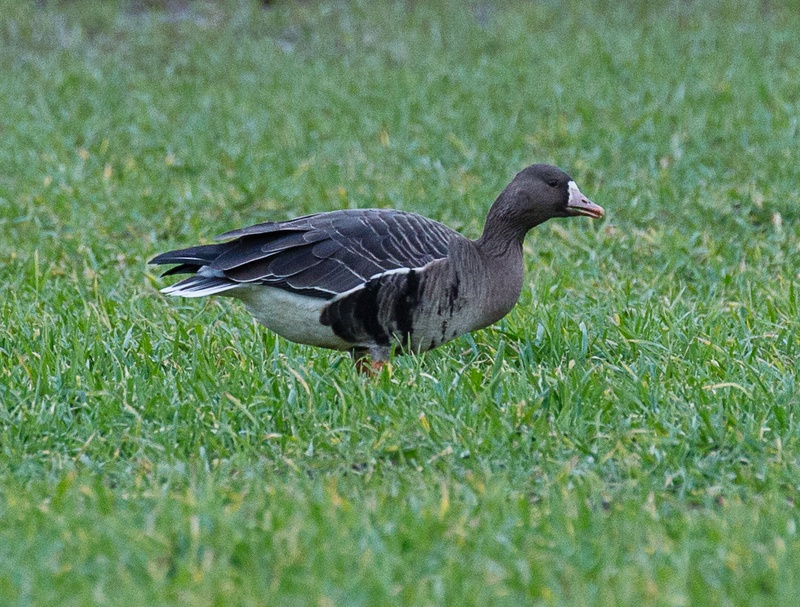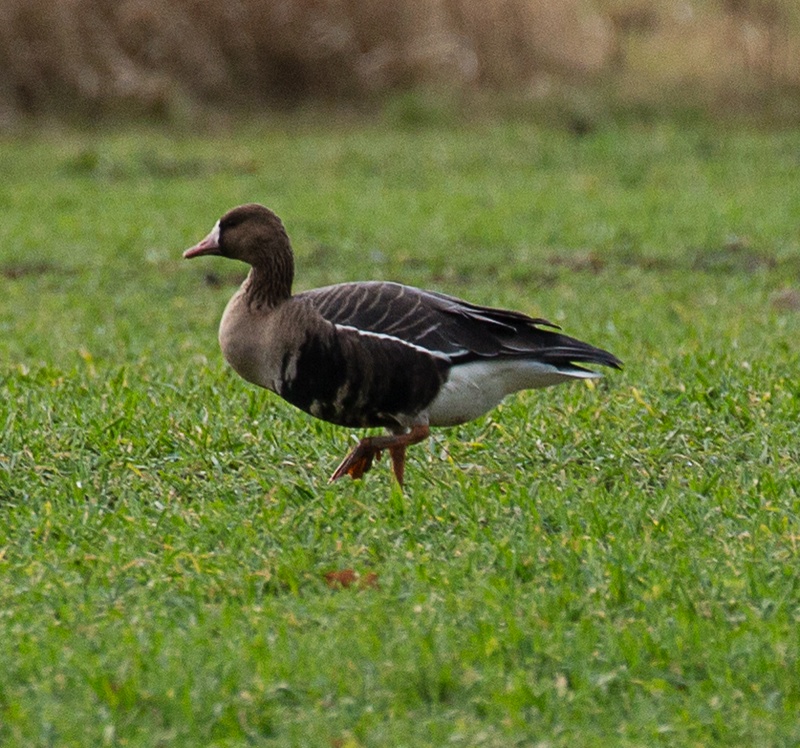 Today I met up with my friend Owen Aiston at Gosforth Park Nature Reserve with both my camera and Julia's camera to hand so that he could have a play with our equipment (!).
Having just retired from teaching, Owen is eager to spend his pension lump sum - and also is keen to get into photography.  He will soon find out that it will be easy to spend the lump sum! We started in the Geoff Lawrence Hide with me trying to explain (quietly) the basics of the cameras and lenses.  Obviously not quietly enough because the incumbent photgrapher politely suggested we should leave...
So we retired to the members' hut where we could natter as much as we liked. Here we were joined by our footballing chum Chris Newman who joined in the jovial discussions regarding the pros and cons of various photographic paraphernalia.
Eventually we were able to return to the hide and practise handling the cameras. The small birds were whizzing about merrily.  I was very pleased to get an excellent view of a Nuthtach.  Owen saw it - but I'm not sure he captured it.  Chris got snaps - perhaps he can send them to me so we can 'compare and contrast'.
I also found some canny Great Tit pictures in the camera.  Now - did I take these or did Owen?  I'm not sure who was in charge of my camera when the Great Tit was captured - let's say it was Owen so that he is encouraged to carry on and develop what is a very rewarding (yet sometimes frustrating) hobby.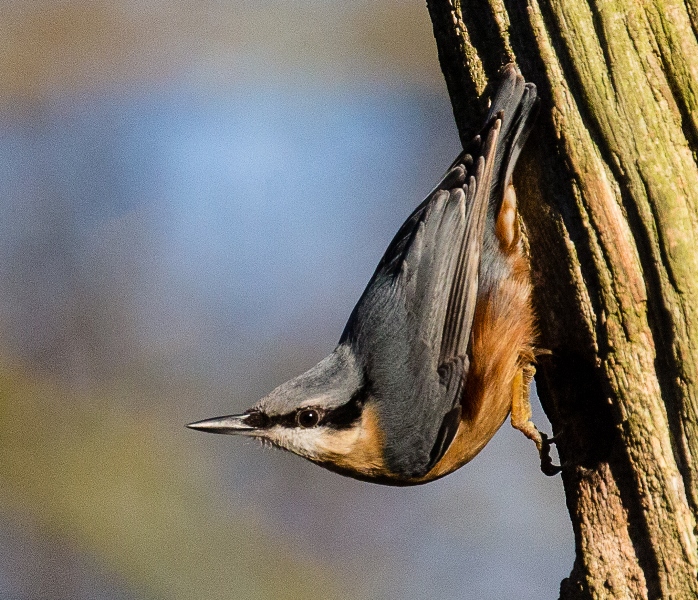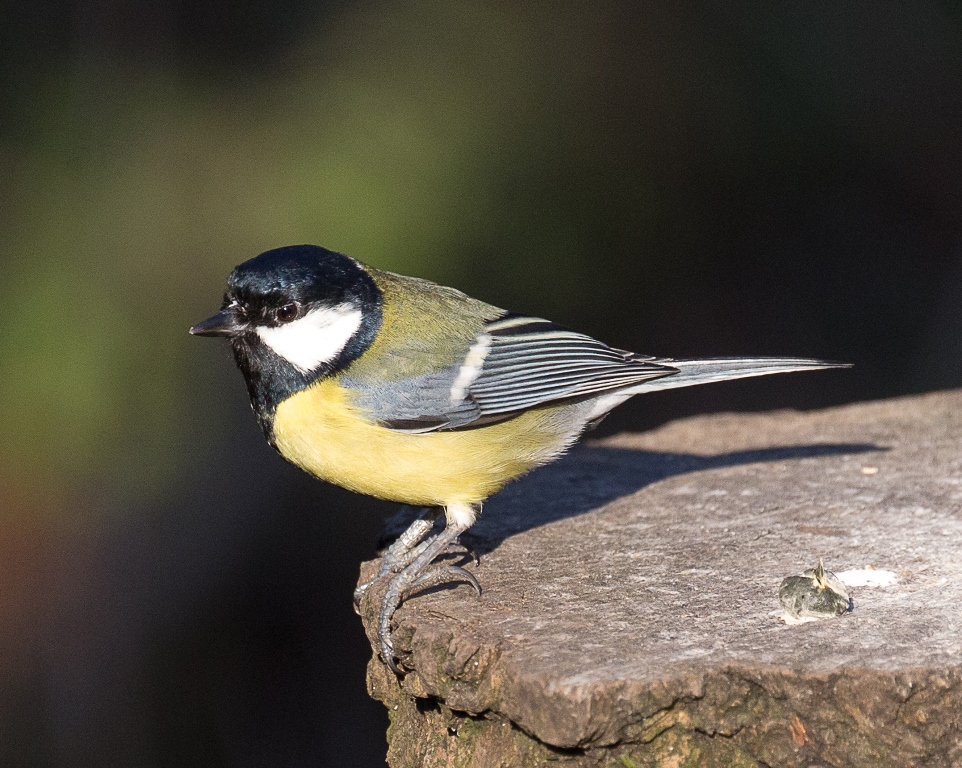 As Julia had not been able to come with me the day before, we went back to Newburn on January 2nd. The thrushes were there again but this time we also had splendid views of this glorious male Bullfinch.
We went home via Morrison's at Blaydon - guess what?  The Waxwings were there - no, not at Morrison's but in a nearby tree...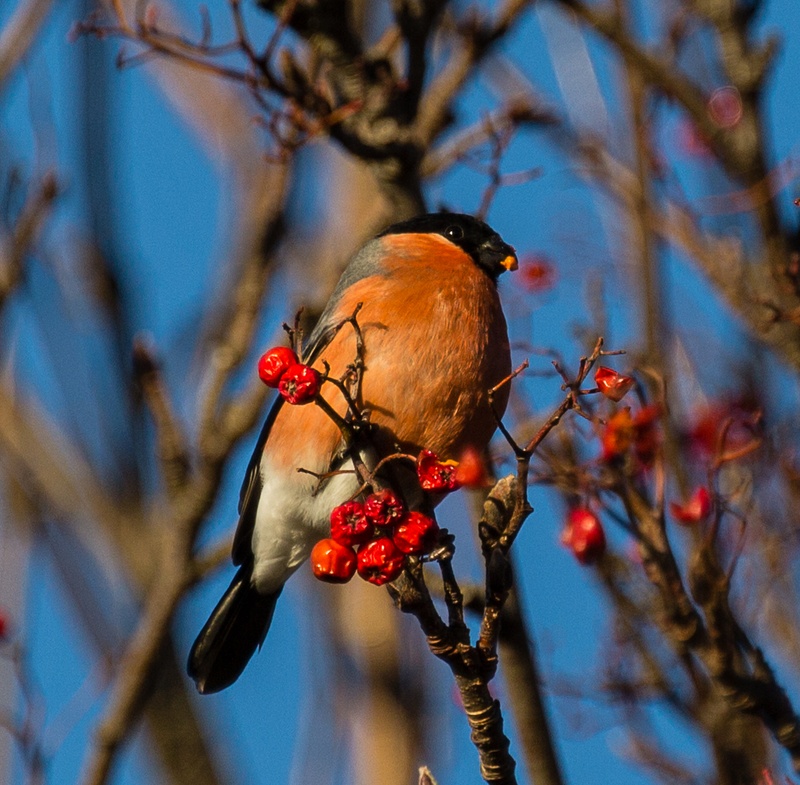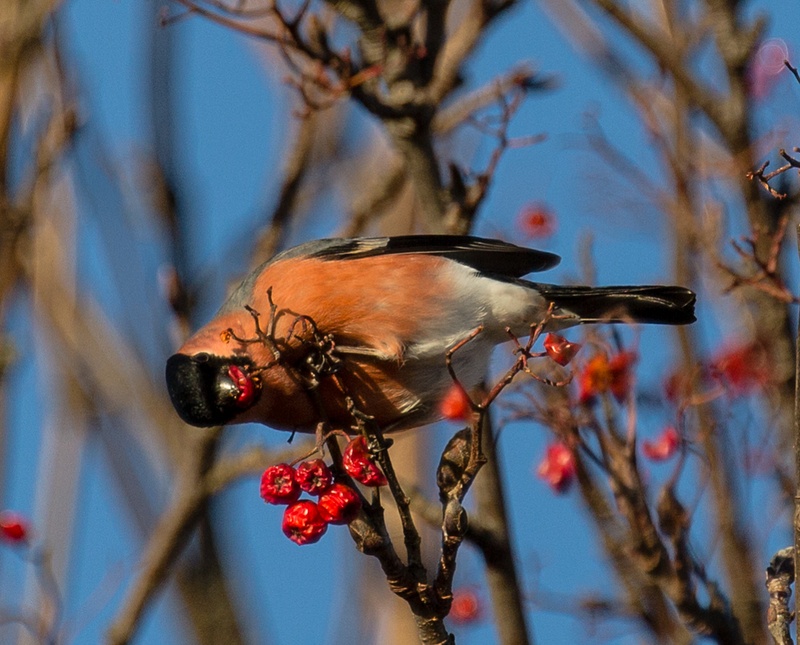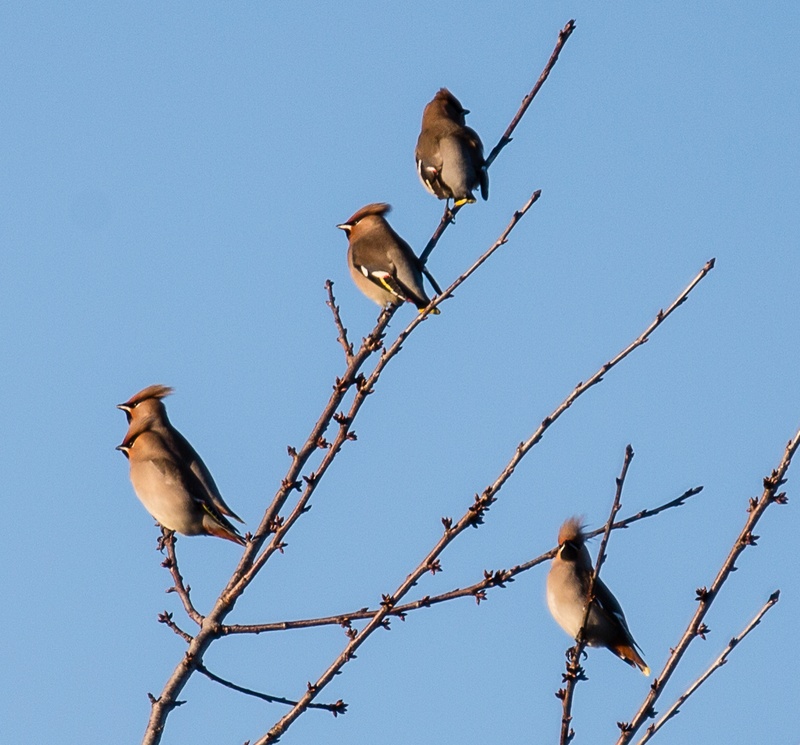 There was a report of Waxwings in Blaydon. So, although we had had great views at Whickham at the end of 2016, I set off on a Waxwing Hunt because this was now 2017 and I am on the trail of 200 species. 
Waxwings were not to be seen however.  But I did meet up with old friend Conrad Dickinson who was seeking the same Waxwings as me.  Not to be thwarted he suggested we visit a favourite haunt of his - a group of berry-laden trees outside of the Warburton's Factory in Newburn.  And I'm really glad we did - a host of splendid thrushes were feeding there including  Redwing, Mistle Thrush and Fieldfare.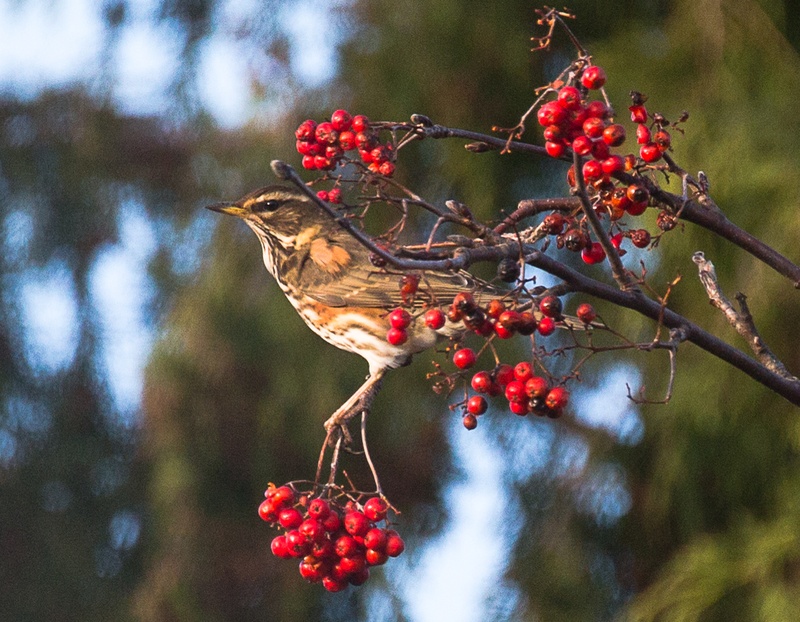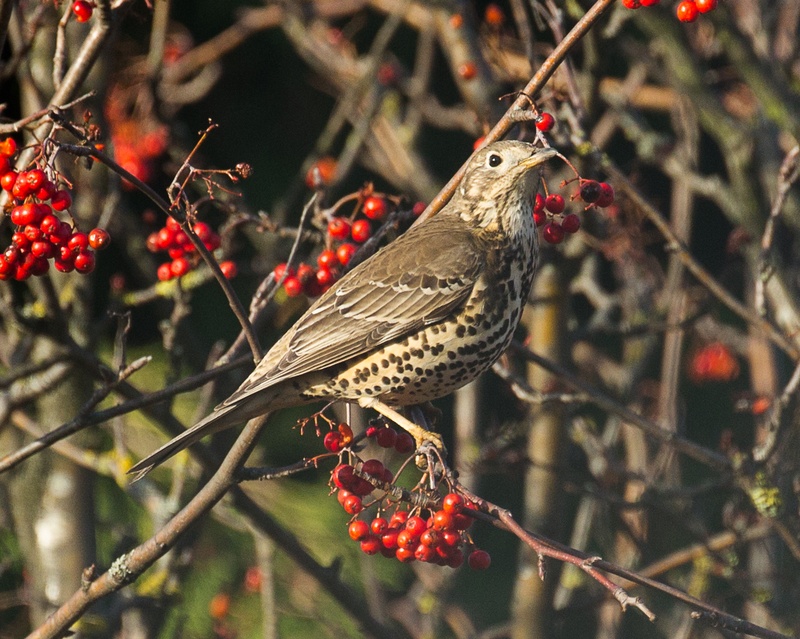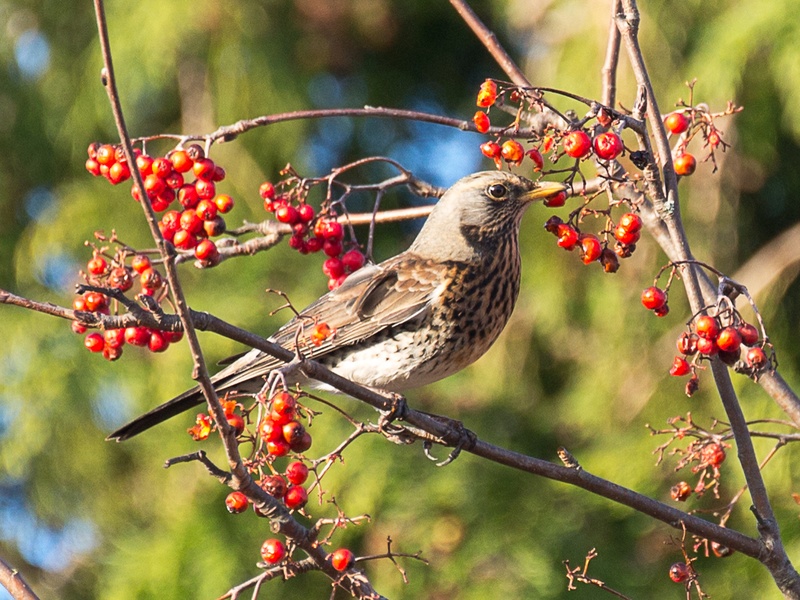 I don't make 'New Year Resolutions' but I am determined to do more with two of my hobbies - birds and painting. Firsly - the birds.
I am going to try and get out and about more regularly for watching and photographing birds.  Subsequently this blog and my Facebook page shoul be updated more regularly. I have also set myself the target of 200 species for 2017.
If I am allowed to count December 31st 2016 (I suppose I can make up my own rules) I had a great start with my best ever views of Bittern. The lake at the Pearce Hide in Gosforth Park Nature Reserve was partially frozen and the Bittern walked out on the ice.  It was early afternoon and sun was going down but there was enough light bouncing off the reed beds to give a lovely image of this traditionally difficult bird to see.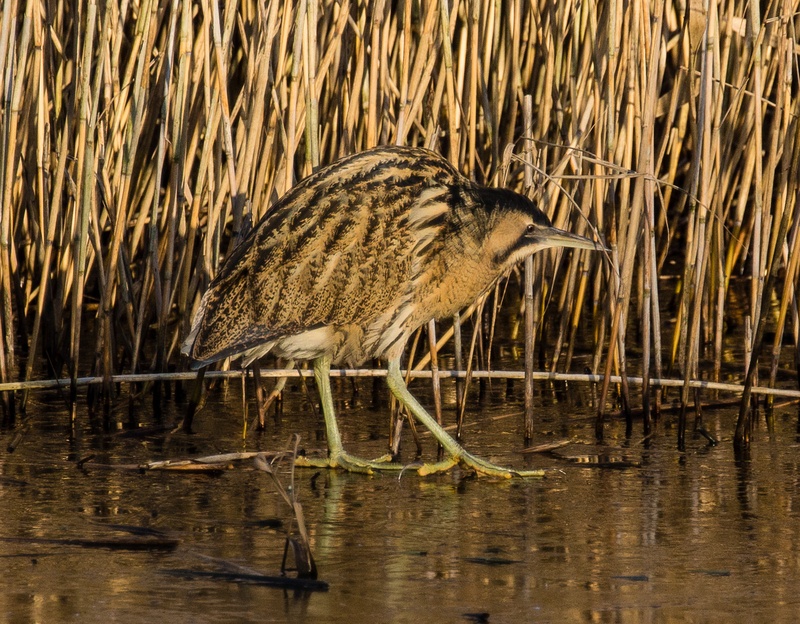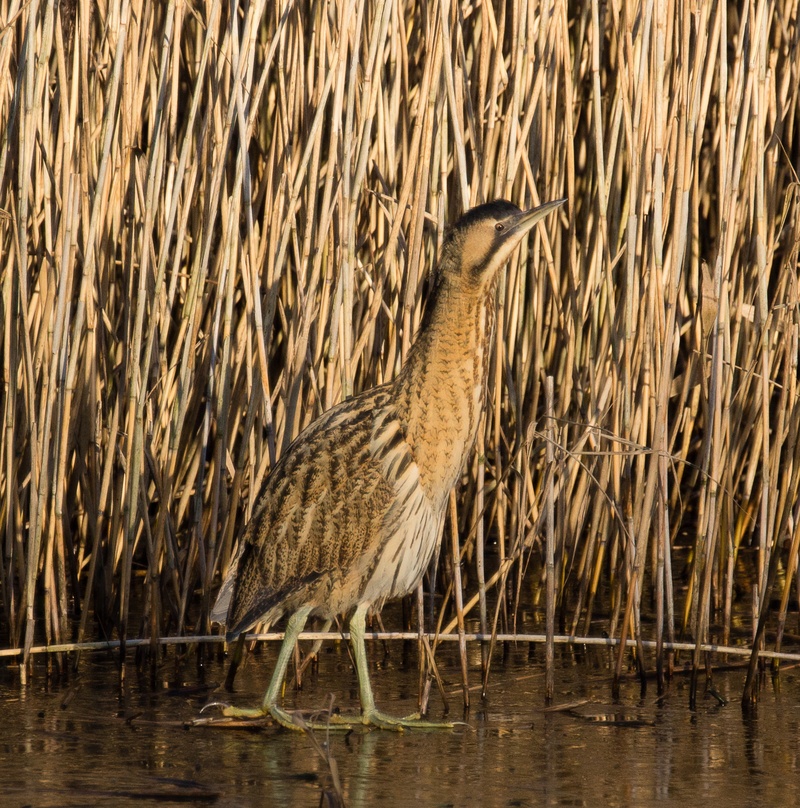 0

/